60-Year Jubilee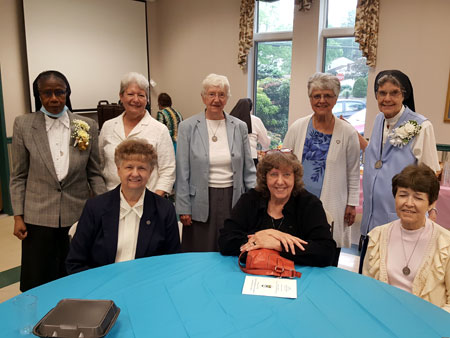 My 60-Year Jubilee of vocation has grown out of deep experiences of God's love when I felt the burden of my failing, sin, and misery.
My first-grade realization that "God made me to know, love, and serve Him in this life and be happy with Him in the next life" gave me the joy of First Reconciliation and Communion until I did a ritual act that I feared was a "big sin" and felt the intense pain of possibly being separated from God. From 7th grade when this got resolved, I most deeply wanted to live close to Jesus and help others do the same which led me to desire becoming a religious Sister. I knew Mary helps me since my Dad had led me to love her and pray her daily rosary from my 8th birthday. I joyfully left home at 18 to begin my now 60 year Journey with Jesus and Mary as a professed Missionary Sister of the Immaculate Conception.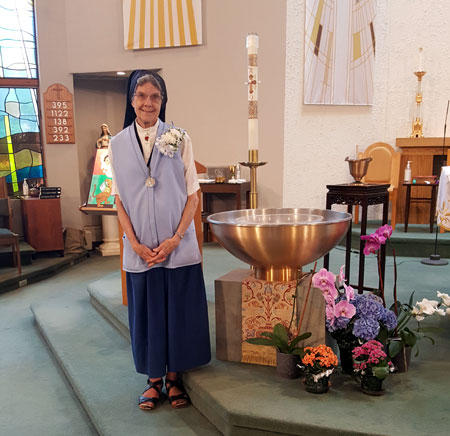 After the initial "honeymoon," I felt my studies and teaching school were overwhelming my prayer life. Ten years into the many changes in the world and the Church of the 1960's, when I faced a big decision, I followed advice and logic to say "no." I felt deep regret over this, which opened me to finding the Catholic charismatic renewal and amazing gifts of the Holy Spirit that shaped me, including to say yes to the next big decision to teach English in Taiwan and find Jesus in significant new ways. I even left English teaching when I returned to the States and got into spiritual ministries and studies for the following decades to the present.
The tragic car-accident death of my mother in 1993 helped me see ways I was insensitive to my mother's beautiful kind heart. As I cried over my pride and tried to grow in human caring, I found Jesus' Divine Mercy so important. One area was in knowing women who had chosen abortion feeling remorse as I had felt for my sins, and wanting to help them before they stepped on that "collapsing bridge" or to be healed afterward, another focus that continues in my life.
I now truly believe that "God works all for good for those who trust Him," giving us each day what best leads us to know His love and mercy. I am ever grateful for Jesus in daily Eucharist, frequent Reconciliation, and His presence, for God the Father and the Holy Spirit, for Mary my Mother, and for the Catholic Church with her sacraments and teachings, the saints and angels who have accompanied my life, the canonized Popes and saints as well as the people I encounter daily, including the Missionary Sisters who have shared my journey with patience and love.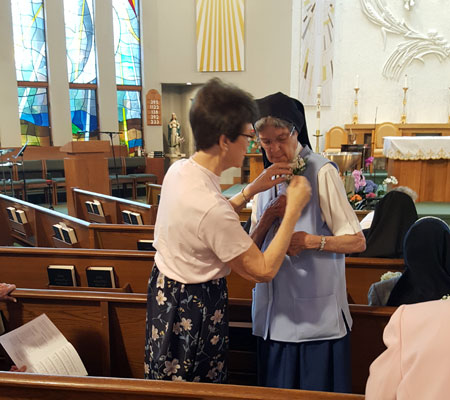 Writing all my life, I'm grateful that I could share writing with my students of Freshman college English. I learned to submit articles, stories, and poetry for publication in a few magazines. I created three audio drama scripts that I students and faculty helped me tape during my five years at Franciscan University of Steubenville. I've edited and helped in publishing our Sr. Veneranda's China Mission story and some histories of our SMIC provinces. Finding the North Jersey Christian Writers Group in 2006 has focused me on the vision that we write not for money or fame but for the glory of God. I'm grateful to compile 60 poems to Jesus and Mary written over these 60 years, and share here one based on Psalm 63 turned into rhyme and marked for chanting:

	O God, my God, for You I long;/My soul athirst sings You its song.
	My body lies, a stretch of sand;/ it pines for water from your Hand.
	In Your High Place, on You I gaze, / to watch Your glory brightly blaze.

	Far more than life is this, Your Love,/ my lips will chant Your praise above.
	I bless You, Lord, my whole life through,/ I lift my hands to honor You.
	My soul shall feast on Sacred Food, / my joyful lips sing gratitude.

	In bed, I always think of You; on You, I muse the long night through.
	For You, my Help, have sent Your rays--/Your Spirit's joy for all my days.
	You, Lord, my soul will ever grip;/ Your Hand will never let me slip.

All glory to the Father, the Son, and Holy Spirit, as in the beginning, is now, and will be forever. Amen.