Recent News
Easter Sunday 2022
Easter brought new life in many and sundry ways this year. Of course, the beautiful liturgical celebrations at the various parishes at which we participated brought much conversation about the joy that seemed to really animate us all with hope through the gift of faith
We were invited to join our Sisters at the Generalate not only for an Easter dinner but also to enjoy two notable celebrations: the feasting of Sr. Beatrice Yang's Silver Jubilee of Religious Life and the renewal of vows of our two Vietnamese Sisters, Srs. Hannah and Augustina who have now completed college studies here in the USA and are awaiting return to Asia. Joy and more joy was the theme of the day!
We share with you these pics of the day.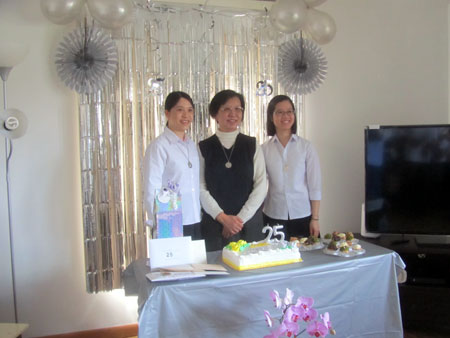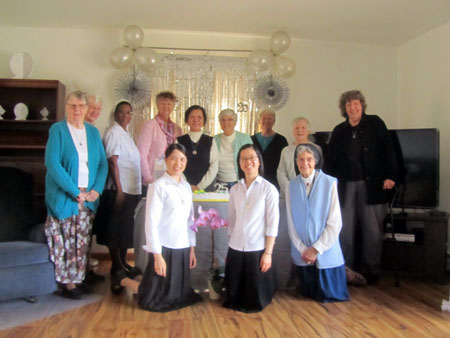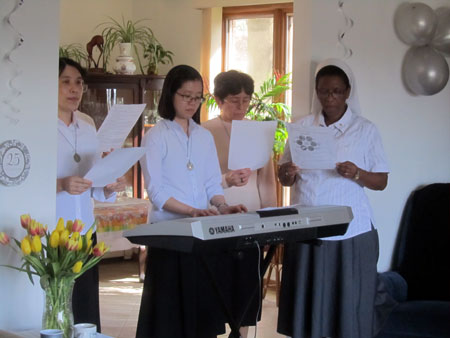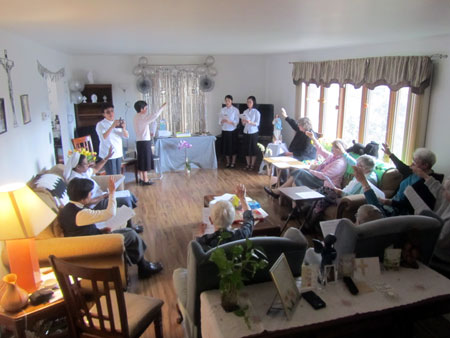 Farewell's are sad ...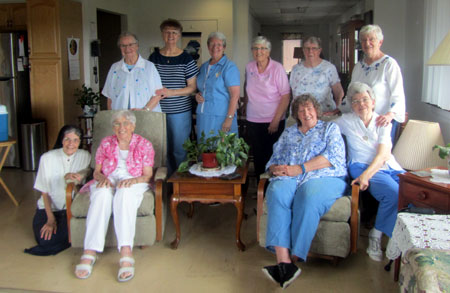 After spending 6 years together in community at the Our Lady of Sorrows convent we were faced with the shocking news of needing to relocate. The Congregation of Sisters from whom we were leasing a wing of a building announced that they were selling everything and that all residents had 6 months to find a new home. Imagine the turmoil involved in moving 12 Sisters to a new home and even more sadly of knowing that several would be separated from us because of levels of care needed to properly meet the health needs of our advancing age group.
The shocking announcement about our move brought on phone calls, visits to possible places until the "gates opened-up" for negotiations to move us into The Oaks, a multilevel care facility that was located next door to where we were living. Even before securing this site we began a well designed step by step plan of how our furniture and household belongings would be handled. Through the months of July to the end of October boxes and name tags on items were organized to indicate for whom and where the items would be moved while non-needed items would be donated to appropriate places.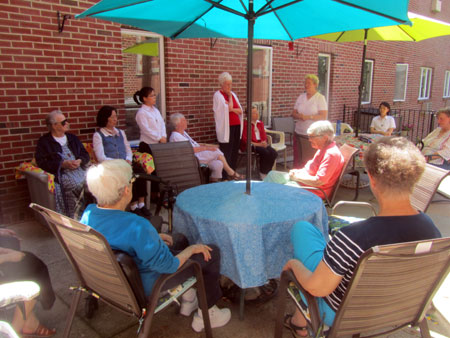 Preparation to move material things was less emotionally impactful than the separation we knew had to take place with four of our number because of their increasing health needs. Gratefully, we found places at a Catholic nursing facility, and a Catholic residential home. After these Sisters were settled, the eight of us were tasked with a decision about how we would divide ourselves into 3 shared and 2 single apartments. With fun, anticipation and some stress, all fell into place so that by early November we began the new phase of our retirement years.
What began as a sad moment has turned into a wonderfully positive experience. We were clear that this new living situation among some 275 plus people was to be a place of ministry of presence and whatever other gifts each one could bring to the people who like us are making their home at The Oaks.
Our experience that God never abandons us has once again found rich soil in our spirits. We are very aware that for much that has been given to us, much is being asked of us in return by way of joyful caring in compassion.