Recent News
Street Renaming Honors Eva's Village
We celebrate our Sister, Eva Hernandez once again enjoying the recognition of the "fruits" of her ministry to the poor of Paterson, NJ.
Most recently, this letter and attachments were emailed to us recognizing Eva's contributions.
Dear Sister Eva,
We were thinking of you on April 21 when we held a celebration to mark the occasion to re-name a block-long section of Main Street "Eva's Village Way." As the first Kitchen Director and namesake of Eva's Village I thought you'd like to know you were mentioned during the ceremony. The City Council passed the resolution to honor Eva's Village by renaming the street in February. The DPW erected the 8-foot sign over the street and a smaller version is attached to the light pole. The larger sign is illuminated at night. It was a very happy occasion and it was a perfect spring day.
I hope you received a printed copy of our Spring newsletter where the ceremony made the front page. I have attached a pdf of several news articles about the event. If you did not receive a printed newsletter, please let me know and I'll mail one to you.
All of us at Eva's Village send our greetings and love. We hope you are well.
Warm regards,
Ellen V. Kuhn
Marketing & Communications Coordinator
Paterson Times - Paterson to name street after anti-poverty group Eva's Village
Eva's Village - Voice of the Village
---
SMIC partners with North Jersey Interfaith Cares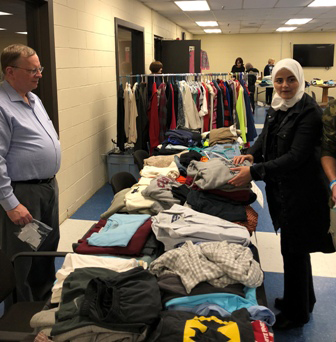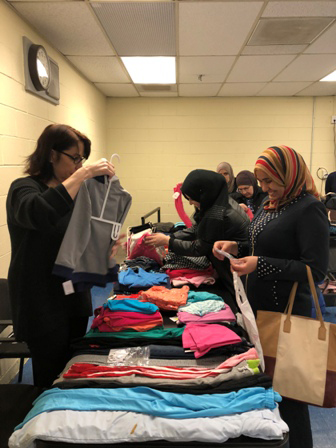 The Denville SMIC Community partners with North Jersey Interfaith Cares to respond to the needs of Syrian Refugees who are settling in as vetted refugees arriving from war torn zones. In the area there are a minimum of 30 families whose needs are being attended to through the coalition.
In February we helped sponsor a creative hands-on "flea market" learning experience with donations of clothing and other household articles that were gently used but no longer of need to our Community. The experience was a wild success as the families - especially the moms - used the fake money received to "purchase" what was either so appealing or needed for their household.
In March, we our contributed in sponsoring a Syrian Mother's Day (celebrated March 21st) event. Though rescheduled on another day because of a snow storm, the Mothers and their children attending English as a Second Language (ESL) classes were overwhelmed with the joy of receiving gift cards and flowers and a special homemade cards from their children. Our small efforts are so well received and bring hope and security to the families who have suffered greatly from the Syrian civil war.
---
2016 Holiday Season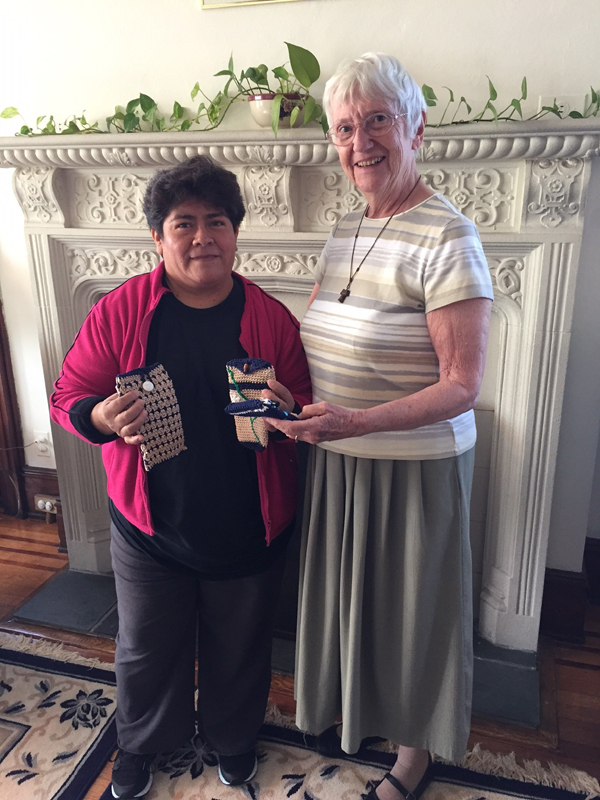 Sr. Eleanor and crocheter Elizabeth at the Passaic Neighborhood Center for Women
---
Sisters at the UN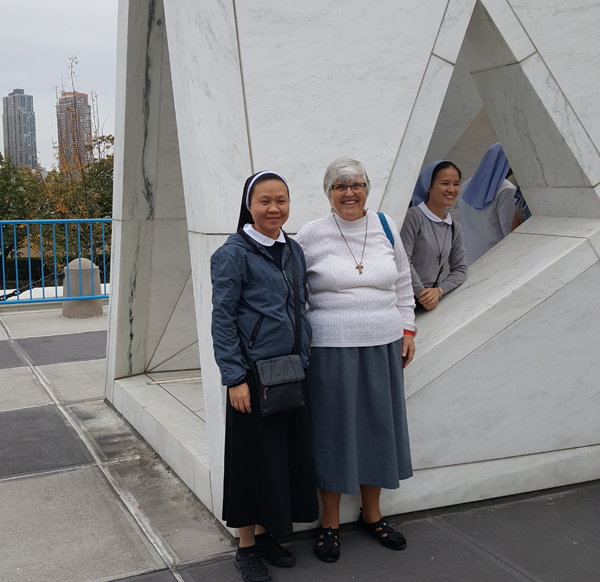 Sr. Kate (center) with a few of her ESL Assumption College students, Sr. Mary Mai (left) and Sr. Therese (right)
---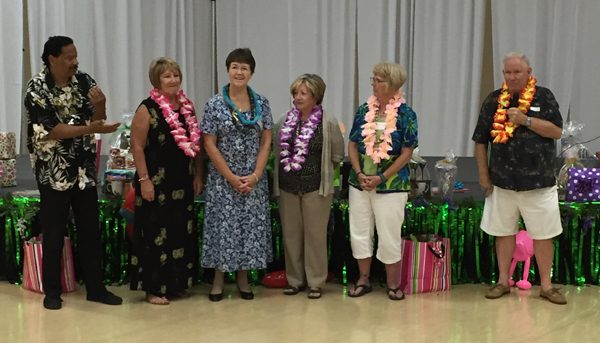 Sr. Judine and other Carol's Kitchen Board of Directors members, CA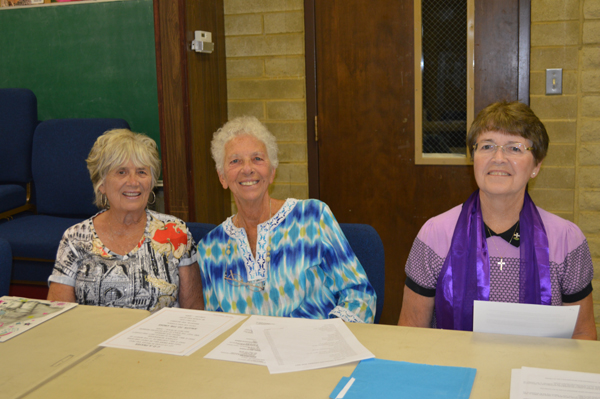 Catholic Daughters Luncheon, CA
---
Article taken from Bangor Daily News
In Bangor, a 'green pocket neighborhood' adapts new ideas to traditional setting
BANGOR, Maine - On Fern Street in Bangor, in the modest block between Garland Street and Mount Hope Avenue, there's a bright new addition to the housing stock. On the site of a former commercial laundry and dry cleaning plant, three custom designed, super energy-efficient houses have been built in the past two years, with room for three more.
These homes are different from the others on Fern Street. Their exterior walls are 16 inches thick and filled with rockwool and cellulose. The windows are triple-glazed and seal as tightly as a refrigerator door. Banks of solar cells cover the south-facing slopes of the roofs. The landscaping trends toward edible permaculture, boasting raised vegetable beds, native fruit trees and berry bushes instead of grassy lawns and flowering shrubs.
This is Bangor EcoHomes, a small but ambitious sustainable-living project developed by husband-and-wife team Bob and Suzanne Kelly, owners of House Revivers and Kelly Realty Management. The couple, longtime members of the Unitarian Universalist Society of Bangor and active with the Peace and Justice Center of Eastern Maine, has renovated and remodeled dozens of intown properties over the past 20 years - including many historic buildings. They currently manage about 65 apartments, offices and commercial spaces.
Now, with their 30-year-old son, David Kelly, as a consultant and designer, they've entered the single-family home market, aiming to attract like-minded buyers to their ambitious new mini-development.
"We're calling it a green pocket neighborhood," Suzanne Kelly said. "It's open to people of all ages, but it's ideal for elders in many ways."
Bangor EcoHomes is a bit like the intentional community model of co-housing, she explained, but without the commitment to bylaws, committee work and planned group activities. Also, unlike many co-housing projects, the Fern Street project is not in a rural setting but in an established neighborhood.
The project offers many advantages that appeal to older Mainers, Kelly said, including its energy efficiency, a spirit of shared values and a livable, walkable intown vibe.
Plus, she said, "We like the idea that we're improving the neighborhood."
"We're drawing from history, re-using what we can, fitting into the existing community and trying to make it better," Kelly said. "We've never done anything like this before."
A 'bad site' reclaimed
Built in 1912, the New Franklin Laundry dominated the Fern Street neighborhood for decades, doing a brisk commercial business with local hospitals, restaurants and other high-volume laundry and dry-cleaning customers.
"At the time it was built, it was at the edge of the city," said Bangor planning officer David Gould. "The residences grew up around it."
After the plant closed in 2002, the building sat vacant and derelict in the midst of the residential neighborhood while the owners searched for a buyer. The property included the old brick laundry and the acre-and-a-half it sat upon, which had been badly contaminated with toxic chemicals from the cleaning business.
"It was a bad site," Gould said.
But Bob Kelly worked with the owners to obtain federal funding for the cleanup, which included scraping off and carting away truckloads of contaminated topsoil and aerating the remainder on site until the contamination was no longer detectable. When Kelly purchased the site in 2007, his idea was to rehab the still-standing laundry building into six condominium units. The real estate crisis of 2008 changed that plan.
"No bank would lend money then on a project like that," Kelly said. "And in the meanwhile, the building was starting to fall down."
So instead, he razed the structure, cleared off the site and got city approval to establish six house lots, each about 6,800 square feet.
Then, the Kellys enlisted the help of their son, who had been studying sustainable communities and energy-efficient construction at Yestermorrow, a design and building school in Vermont.
"The challenge here was to do a lot of balancing between the individual space and sovereignty people want in their private homes while still maintaining a sense of community," David Kelly said.
In addition, he said, the project was committed to sustainable construction practices, including the use of local materials whenever possible, the re-use of materials left from the demolition of the old laundry building and the restoration of the land's vanished topsoil to support a permaculture landscape.
"All the original topsoil was removed with the cleanup," he said. "This whole site was like a gravel parking lot."
Now, applications of organic matter such as leaves and bark chips have already begun to decompose into soil, supporting early plantings of fruit trees, blueberry bushes, cranberry vines and other native edibles.
Cost versus value
For retired physician Miriam Devlin, 84, the permaculture landscaping and gardening opportunities of the project were a big draw.
Plus, she said, "the opportunity to have a solar-run house was too good to miss."
She and her housemate, artist Nancy Earle, helped design the home, working with David Kelly to achieve a one-story 1,225-square-foot floor plan that suits their needs. They moved in last January.
Devlin admitted that they still miss the rural environment of their previous home in Orland. But the project's commitment to sustainable living, along with being close to shopping, medical services and like-minded neighbors, promises to mitigate those losses, she said.
Next door, Mike Grondin, 62, and his partner, Kyle Tardy, 53, said they knew about the Kellys' project from the beginning, when it was envisioned as condominiums in the rehabbed laundry building. Their interest didn't flag when the project changed to a mini-neighborhood of separate houses.
"I was really ready to move into town," Grondin, who previously lived in Eddington, said. "I was intrigued by the design and construction of these homes - the heat pumps and solar panels, the use of reclaimed lumber and local materials - the whole thing."
Plus, Grondin said, as he ages, he values being closer to medical services. In the future, he said, "When I call 911, I want them here in two minutes, not 20 minutes."
Bob and Suzanne Kelly live in the third house on the site, a two-story, 1,600-square-foot home they love.
Three lots remain to be sold, at an asking price of $40,000 each. While there's no requirement that David Kelly design the new homes, the family feels confident that buyers will be drawn to the project's ideals as well as to its location. The cost of building these energy-efficient homes runs about 10 percent higher than standard construction, they say, but that expense is offset by much lower costs for heating, cooling and electricity.
Suzanne Kelly said the activity around Bangor EcoHomes is having a positive effect on the rest of the neighborhood, spurring a small flurry of home improvement and home beautification projects.
"I think it's true what they say, that a rising tide floats all boats," she said.
Bangor planning officer Gould agrees. "The neighborhoods that go into decline are the ones where homeowners aren't invested in their properties," he said. "What makes a neighborhood work is when people are concerned with the long-term value of their homes." On Fern Street, he said, the Kellys' project is generating the kind of interest that attracts new homeowners and preserves and protects the value of family neighborhoods.
---
BANGOR, Maine -
Six years after first planning and proposing the idea to build a large condominium building on the Fern Street site formerly occupied by New Franklin Laundry, Bob and Suzanne Kelly are close to building.
But instead of 15 condominiums, the Kellys have ripped up the old blueprint and drawn up a new one for six energy-efficient houses. The Kellys, a husband-and-wife team that owns and operates House Revivers and Kelly Realty Management, are excited about seeing their plan finally start to take shape. They may see groundbreaking as early as late summer.
"We've been working on construction and insulation details, and now we're working on floor plans," said Bob Kelly. "About 60 percent done, and I'd like to start building the first building by September and have it done by early spring."
The net-zero-energy houses, which essentially produce or save as much energy as they consume, would use air-to-air heat pumps, which double as air-conditioning units in the summer, Kelly said.
"There's less expense that way because you don't have to put in a big furnace or heating system, or central AC," said Kelly, a Lincoln native who envisions two-story houses with two or three bedrooms and two full bathrooms. Kelly said the initial expense of building more energy-efficient homes such as these can be higher in some areas - thicker walls, sealed windows and labor costs, for instance - but the fuel and energy savings will pay for themselves eventually.
"It's a lot more manageable and you know your costs will be a lot better controlled with less fluctuation," he said.
"Usually we save old buildings, but in this case the building [New Franklin Laundry] is in really bad shape," Bob Kelly said. "Originally it was supposed to be a condominium, but that was before the housing crunch. A year ago, we started thinking in terms of single-family homes, and the advantage there is we can build them one at a time as demand warrants."
The Kellys, who own and operate 80 office and apartment rental units in Bangor, said there is already interest in the homes, especially from married couples like themselves who are eyeing retirement and want comfortable but scaled-down houses that are less expensive and easier to maintain.
Bob Kelly said the houses will be done in a Cape or bungalow style with an average price around $200,000 apiece. David Kelly, Bob and Suzanne's son, also is involved with the project's planning and building. Suzanne concentrates on marketing and interior decoration aspects.
Bob Kelly says it's gratifying to see his vision and planning work finally nearing the construction phase, and he credits the Bangor Planning Board and Bangor Savings Bank for sticking with him.
"We got approval awhile ago for the condos, and since this is considered a minor site revision, we don't have to go through the whole process all over again," said Kelly. "The neighbors have been very patient with us. I'm really excited about it. It's been a long time getting it together."
---
2016-2018 Provincial Leadership Team Installation July 2, 2016
---
Srs. Nancy and Miriam ~ Bangor, ME
---
July 16, 2016 in Watchung, NJ
---
Sr. Judine Jacobs, S.M.I.C
Golden Jubilee Day - March 22, 2016
Sister Judine Jacobs serves as the Provincial of the Missionary Sisters of the Immaculate Conception. Her congregation follows the rule of St. Francis.
It was founded in 1910 in the region of the Amazon, Brazil. The original purpose of the founding was to work with the indigenous in the Cururu. Missions have spread to five continents: Africa, Asia, Brazil, Europe and the United States. She lives in community with Sr. Frances Karovic.
Sr. Judine began her ministry 38 years ago in the Diocese of San Bernardino among the Hispanic Community and migrant workers of Blythe and Brawley where she worked as a Nurse Practitioner in Women's Health at Clinicas de Salud.
For 21 years she ministered on the five Indian Reservations as a Nurse Practitioner in the field of women's health. She continues with ties to the Native American community to this day.
---
Our House Blessing
On Nov. 15, after 2 1/2 months of settling in, the Sisters who moved from Paterson and Parsippany to Denville officially blessed their new home and their chapel. We began at the front entrance and ended in the chapel during which we blessed the space as well as each other. In all the blessing throughout the house, holy water from Jerusalem was used.
As you can see, no space was left unblessed - even to the bathrooms!
The blessing
---