Associates
Remembering Sandy Bradford
"Start by doing what is necessary, then what is possible and suddenly you are doing the impossible"
St. Francis of Assisi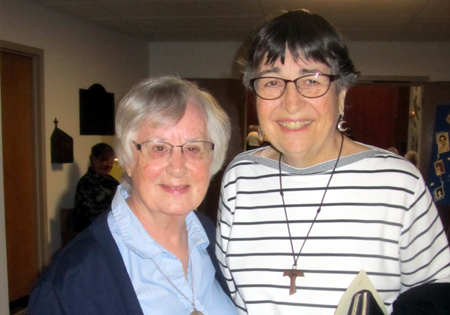 Sr. Christina Marie Keelean with Sandy Bradford
The Missionary Sisters celebrate the life commitment of Sandy Bradford who returned to God earlier this summer of 2018.
Sandy, from long ago heard and responded to the Lord's invitation to use her missionary heart for the good of the poor and needy.
First coming to know SMIC as a professed Sister, Sandy's love for the Congregation and her service to the poor continued throughout her life into her marriage and professional work as a physical therapist.
Over the years, Sandy has been to Brazil several times to offer English to our Brazilian SMIC Sisters. She loved being in Brazil and received such delight to connect with the people and Sisters.
A missionary heart was shared by both Sandy and Bryce Bradford while raising their three children in Detroit, MI for 22 years and moving to LeHigh Acres, FL. Their life of service includes presence to the Navajo tribe in New Mexico for 5 years and, in 2011, joining overseas mission service with Franciscan Mission Service in Washington, DC where they taught English at the Franciscan Mission in Zambia. After returning to the States, Sandra continued to offer her service to SMIC as an English mentor through long distance Skyping with our Brazilian Sisters.
We offer our gratitude to God and to Bryce for caring so well for Sandra while she was among us.