Associates
December 8th, 2020, the feast of the Immaculate Conception
by Jeanne Brolan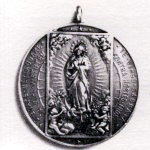 (Today) I see Mary through different eyes. I remember how Mary was such a person of Wonder when I was growing up. A virgin, a woman without sin, the Mother of God. As a child I would be in Awe of this Blessed Lady. Her humanness was beyond my conception, she was heavenly, far from human.
As I matured, I found the words she recited in the Magnificat to be inspiring. I could see her strong faith in God. I prayed that she would guide me in learning to have that faith in my life.
It was not until going through this past year, 2020, that I could identify Mary with being part of our world, the human world. I found her in the news reports on immigrants, she walked in their shoes with Joseph in Bethlehem. I found her in the hospitals where medical personnel stood at the bedside of dying patients. She stood at the cross of her dying son. I found her in the lives of people about to be evicted from their homes. She was told to flee from her home with her young son. It seems that a day did not pass where I saw how her very human life intertwined with the lives of so many mothers today.
I find myself reviewing the life of this Blessed Woman and clutching on to her response to the angel Gabriel. The faith she displayed at that moment was a gift for all Mothers from generation to generation. Mary gave us the blueprint for how to live life one day at a time. How to let go of wanting to control our life and just "Be" so our God can work through us.
This year could be a year of immense fear. There have been so many things that we did not have control over. As a mother I would find myself slipping into the grips of fear for my adult children and grandchildren. There would be days that I would wonder if I would see them again. When such thoughts entered my day, I would take a deep breath and remember how Mary responded to the unknown. I would take my fear to my God and know whatever life gives me I will never have to deal with anything alone. No one in this time of pandemic is alone. We are seeing the love of God coming from so many people each day.
God calls each one of us by name. Mary, in all her humanness, gave a response to Gabriel with complete understanding of God's love for her. The words that came flowing from her heart were words spoken by the prophets, powerful words of trust in God our Creator. These words are so philosophical for our generation today. They are indeed our blueprint for today's world of uncertainty. I have heard people call these times we are in Biblical times. We are blessed on this feast day to honor a very human person who taught us a Biblical response to resist fear.
Jeanne Brolan