Associates
Compassionate Presence with Migrants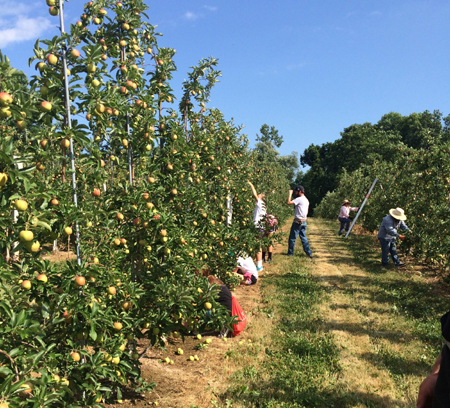 Norah Nolan Cramer who lives with her husband Doug in the Finger Lakes area of New York State is actively involved in her parish mission work. Assisting with parish teens, she helps with confirmation classes, youth retreats, conducts Citizenship Prep classes, collects gifts for all families in need for school supplies, etc, etc.
In her ministry of service, Norah states that "Perhaps the most impactful thing we did was to take our teens who were participating in our yearly Service Camp to work along side of the migrants at an apple farm with the migrants sharing their stories deeply touching our kids."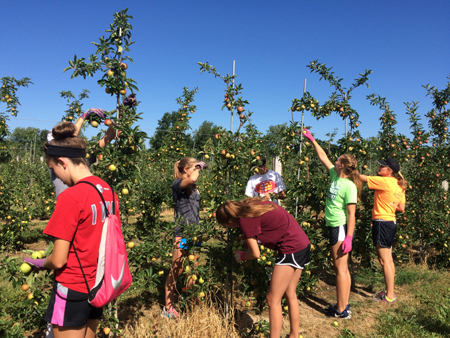 Norah says of this service, "we can no longer have a large presence at the church - it draws too much attention to the community and ICE parks on Main Street of the small village. People are afraid to travel too - they keep getting picked up in random stops by the police. The stories are heartbreaking - one of our confirmation students, both of her parents were picked up and are being deported so she and her two younger siblings will be left behind. The parents have been here for 16 years - she and the siblings are US citizens."
Norah knows first-hand the difficulties experienced by migrant workers and their families. We SMICs are grateful for her missionary spirit linked to the SMIC charism of contemplative, compassionate presence to those most in need.
---
SMIC Associate Jeanne Brolan reflects on the challenge and grace offered during this critical time as a person of faith in the Catholic Church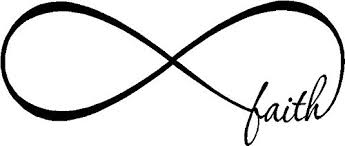 "Lord, to whom shall we go? You have the words of eternal life."
I do not think it is just a coincidence that these words from John's Gospel appear in our Sunday readings. (August 26). In fact I think this reading is the Holy Spirit's sign of hope for the church. It is at this time we as people of the church are experiencing such devastation and be-trial from it's leaders that we need guidance; it is only natural to ask "Lord, to whom shall we go.
I have turned to nature for many of my answers now we that I live at the lake. When we see the wrath of nature through tornado's, hurricanes, earthquakes all over the world, we see people have a great deal of resilience. They have lost everything yet they will rebuild their communities. It was not nature's wrath that has us asking this question, it is our human leaders wrath that leaves us in turmoil, in anger, in disbelieving. Our instincts say walk away. How can you ever be part of a church that sees our most cherished gifts from God, our children, being harmed. The sins of priest's will stay with our children forever. The destructive acts were evil but they do not compare to the leaders of the church protecting their priest actions over innocent children.
Our leaders needed to keep the power of their priesthood over a scandal to their vocation. I remember sitting in religion class learning about the magic that came with a vocation to the priesthood. We were taught about the indelible mark that is put on a priest soul at the time of ordination. This mark puts a priest above lay people.
In my journey to find my God and develop a relationship with God. I learned that God loves me and lives in me and I in God. This is the relationship each of God's children have with their creator. We all are made in the image and likeness of our God. God calls each of us by name and loves each of us. This so called power the church leaders profess to have, this clericalism does not fit in our society. I do not see any place where Jesus put His followers above one another. We were all given the Gospel to follow.
People's lives were destroyed for the sake of keeping a power that was not really there. Again I go back to John's words " Lord to whom should we go?" I have lived in the Catholic church for over 70 years. Where do I go? I sat with my adult children answering the WHY's of following this church. I did not have a lot of strong answers in the mist of this scandal. I walked around for a week searching for reasons to stay. As I pondered where I should go, I thought about my journey to find a relationship with my God. It was the people of my Catholic faith who walked with me on this journey who brought me to know God. St. Francis and St. Clare, St Theresa, Thomas Merton, and Dorothy Day, Mother Immaculata and Edith Stein whose lives showed me how to live in relationship with God. It was the Gospels of Jesus that showed me the Father. These people by their lives taught me to live in the spirit of charism. This journey was not influenced by the church leaders of today. I will not walk away from all that I cherish because evil has taken hold of our church.
This wrath that has consumed the Catholic Church is like any wrath nature brings. We have been left in destruction but like all humans we are resilient. It is our church and the doors are open for a fresh start. It will be the lay people and the women religious who will rebuild our church. Our blue print will be the gospel, our tools will be prayer for the guidance of the Holy Spirit. Evil can not take away the foundation of my spiritual life. Jesus who I found through the Catholic faith will bring me to eternal life.
Jeanne
---
Remembering Sandy Bradford
"Start by doing what is necessary, then what is possible and suddenly you are doing the impossible"
St. Francis of Assisi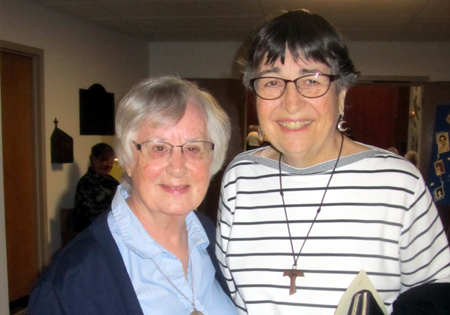 Sr. Christina Marie Keelean with Sandy Bradford
The Missionary Sisters celebrate the life commitment of Sandy Bradford who returned to God earlier this summer of 2018.
Sandy, from long ago heard and responded to the Lord's invitation to use her missionary heart for the good of the poor and needy.
First coming to know SMIC as a professed Sister, Sandy's love for the Congregation and her service to the poor continued throughout her life into her marriage and professional work as a physical therapist.
Over the years, Sandy has been to Brazil several times to offer English to our Brazilian SMIC Sisters. She loved being in Brazil and received such delight to connect with the people and Sisters.
A missionary heart was shared by both Sandy and Bryce Bradford while raising their three children in Detroit, MI for 22 years and moving to LeHigh Acres, FL. Their life of service includes presence to the Navajo tribe in New Mexico for 5 years and, in 2011, joining overseas mission service with Franciscan Mission Service in Washington, DC where they taught English at the Franciscan Mission in Zambia. After returning to the States, Sandra continued to offer her service to SMIC as an English mentor through long distance Skyping with our Brazilian Sisters.
We offer our gratitude to God and to Bryce for caring so well for Sandra while she was among us.