Past News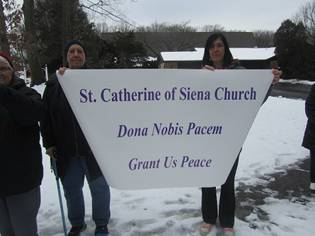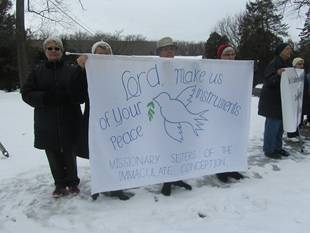 During Lent our Denville Community decided that one communal lenten practice would be to stand each Monday in silent prayer for peace. Before beginning our plan, the community sought collaboration with St. Catherine's Parish in Mountain Lakes, NJ., by speaking with Fr. Jared who has been inviting his parishioners to join us SMICs in "proclaiming" this meaningful Lenten message.
In order to bring visibility to the message, we gather at the corner of our street (Pocono Road) where a rather busy passing of cars occurs at the noon time prayer-stand, to hold a banner proclaiming: Lord, make us instruments of your Peace.
There have been a number of responses to the message including car horn beeps and hand signals of acceptance as well as looks or rather eyes turned aside in possible embarassment and/or to avoid confrontation, etc. To any and all of these passerbys, and to all peoples throughout the world, we are sending vibes of peace and a hope that all become persons committing to be counter witnesses to violence so prevalent in our world.
The half hour prayer-stand takes place throughout the ending winter snows and rains or in the welcoming warming spring that is upon us at this time of the year. Our Lenten fasting practice is one that is truly bringing us the blessing of the Lord.
---
St. Francis of Assisi, Pope Francis and You.
Saturday, October 24 saw 11 SMICs participating in the Region I Franciscan Federation gathering at St. Bonaventure parish, Paterson. ( Missing from the picture is Sr. Consuela Scott, who had left before the picture was taken.)
The theme of the day was St. Francis of Assisi, Pope Francis and You.
Ably led by Sister Louise, OSF of the Neumann community, Buffalo, NY, ( in the middle of the picture surrounded by the Missionary Sisters) she guided the 35+ Sisters, Brothers, priest present to look at similarities in thought and behavior between the two Francis-es, always ending with a reflection "What and where are the similarities in your own life?"
Everyone present acknowledged that they gained new insights about Francis and the Pope or heard some "old" information in a new way.
---
Learn Online: Climate Change Science & Negotiations
You Can Be Part of the Solution
Last month, more than 2 million people marched in cities around the world for climate action, and around 2 million people signed a global petition urging world leaders to stay within the 2° Celsius limit on global warming. It's become increasingly clear that the world is ready for climate action.
But humanity has just about run out of time: Scientists have pointed out that a rise in mean surface temperature of 2° Celsius above pre-industrial levels will put the Earth in dangerous, uncharted territory. Yet we currently are on a path toward an increase of 4° or more this century. The climate negotiations in the coming 14 months, culminating in Paris in December 2015, will be the most important of our generation.
A smart climate agreement requires a serious grounding in climate science, energy systems and policy. Here's how you can develop that expertise and be an informed participant in the coming negotiations.
"Climate Change Science & Negotiations" is a new online course offered free by the Sustainable Development Solutions Network. It launches on Oct. 16, and is currently open for enrollment. This two-semester course introduces students to the science and policy environment surrounding climate change and is based in part on the findings of the Deep Decarbonization Pathways Project. Professor Jeffrey Sachs, director of The Earth Institute and the Sustainable Development Solutions Network, and Emmanuel Guerin, the network's associate director, will teach the course.
The course will explain the core of climate science; the reasons for the 2° Celsius limit agreed to by governments in 2010; the technological options for "deep decarbonization"; and the pathways and obstacles to a global climate agreement. The second semester will be a dynamic climate change negotiation, modeled on the real negotiations under the United Nations Framework Convention on Climate Change. UN members are scheduled to reach an agreement in Paris in December 2015; the outcomes of the simulated negotiations will be presented to global leaders in advance of that meeting.
We encourage you to sign up, and to promote this course by forwarding information on to others. Feel free to post the description of the new course from SDSN.edu on your websites and post links to the course on social media, using the hashtag #climateclass and by tagging @SDSNedu.
All SDSN.edu courses are free and open globally to anyone with an Internet connection.
---
Sister Jean Amore Celebrates Golden Jubilee
Sister Jean Amore, SMIC, Pastoral associate at St. Bonaventure church, Paterson celebrated her Golden Jubilee of profession of vows into the Missionary Sisters of the Immaculate Conception on August 15, 2014 in Paterson, New Jersey.
Daughter of the late Robert M. and Mary Sanders Amore, Sister Jean (Mary Kae) was born in Chicago and raised in Solon Mills, Ill. The oldest of 9 children, she graduated from St. Peter's Elementary School in Spring Grove, class of 1957 and Marian Central Catholic High, Wood Stock in 1961. In 1993 she received the Marian Central High Distinguished Alumna Award for her work with men on Death Row in Texas.
She spent several years in West Texas where she taught in the parish school in Big Spring and then as religious education coordinator and youth coordinator in St. Ann's parish in Midland, Texas.
She then ministered as pastoral associate at St. Peter Clavier Parish, Houston. It was there that one of the parishioners pleaded with Sister to visit her son in Death Row for a crime he did not commit. This one visit resulted in Sister Jean's continual commitment to advocate for the repeal of the death penalty.
Sister Jean continued to serve the mission of the congregation in her assignment as program coordinator in the lay missioner - for - overseas training program at Franciscan Mission Service, Washington, DC. She then was called to serve her congregation as General councilor and treasurer; while based in Woodland Park at the Generalate headquarters, she was brought into contact with the sisters and their mission around the world, visiting them in Brazil, Taiwan, Germany, Philippines, and Namibia, Africa. Her most recent involvement overseas was a 3 month exchange program with her community members in Namibia, Africa.
At present, Sr. Jean serves as pastoral associate of St. Bonaventure parish, Paterson, NJ ministering particularly to the senior members of the parish and as contact person of the parish to the OFM's Holy Name Province Office of Peace, Justice and Integrity of Creation.
In 2010, Sr. Jean was her congregation's honoree at the annual national meeting of the Franciscan Federation, for living in an exemplary manner the Federation's theme "Passionately Embracing Gospel Living."
---
Bishop Serratelli Meets New Leadership Team For SMIC Sisters
THE BEACON - MAY 1, 2014
PATERSON - Bishop Serratelli met with the new leadership team for the Missionary Sisters of the Immaculate Conception (SMIC) of the U.S. province here April 22. The four-sister team was installed last November at the Mcauley Hall Mercy Health Care Center in Watchung.
The new team members are Sister Judine Jacobs and Sister Frances Karovici, currently serving in California; Sister Miriam Devlin, serving in Maine and Sister Eva Hernandez, serving in Texas. They were in the area for official meetings including a day of reflection for SMIC sisters in the U.S. Province. The leadership team will serve a three-year term leading the 24 SMIC sisters serving the United States with many serving in the Paterson Diocese. The SMIC sisters have a long history serving in the diocese including at the bishop's residence for Bishop Casey, parishes and many healthcare facilities. Sister Hernandez is the "Eva" for whom Eva's Village was named when it was founded by the late Msgr. Vincent Puma.
FROM LEADERSHIP
Bishop Serratelli receives a painting of St. Francis of Assisi by Sister Nancy Earl (second from left) to mark the bishop's upcoming 10th anniversary as the Bishop of Paterson. Also with them are members of the leadership team - Sister Miriam Delvin, Sister Judine Jacobs, Sister Eva Hernandez, Sister Frances Karovici - and Father Kevin Corcoran, priestsecretary to the bishop. Beacon photo / Cecile SanAgustin
---
---
Another Step Forward in the Fight against Human Trafficking
From: Sister Maryann Agnes Mueller, CSSF
Justice and Peace Coordinator
Felician Sisters of North America
>>Link
---
World Youth Day - Rio de Janeiro, Brazil, July 2013
The US Province sponsored two sisters from our Salvador, Brazil province to attend the 2013 World Youth Day event in Rio de Janeiro, Brazil.
Sister Joseane and Sister Ana Paula state, "For us it was a unique experience and meaningful for our walk with God and for our human and spiritual growth." They continue,
"The trip to Rio de Janeiro was very important for my life and seeing the Pope was a special moment too. The hospitality of the people in the Rio de Janeiro was great." (Sr. Ana Paula)
"The trip was awesome. We left from Feira de Santana, Bahia to Rio de Janeiro on July 21 with forty young people and traveled for thirty hours by bus. To have participated in this event was a special moment, unforgettable, something different for me. I have never seen or experienced something like this before. That reality was profound and unique and one that I will get always in my heart. It had an energy that involved all aspects of life. We felt the peace that warmed up every human heart and the divine light that touched everybody. It was a breeze of faith that strengthened our souls. The atmosphere was fraternal that motivated our walking. So this experience was exciting and touching and now I feel truly strengthened in my Faith." (Sr. Joseane)
They share with us something of their experience with Pope, people from all over the world and God in the pictures here.
Franciscan Life in Evolution
2013 Annual Franciscan Federation Conference
Sr. Miriam Devlin, SMIC was our Honoree at the 2013 Annual Franciscan Federation Conference and Banquet, honored for her exemplary living the theme of the conference, "Franciscan Life in Evolution."
Sister Miriam Devlin, SMIC, a physician who has served in Taiwan, Bolivia and the United States, has long been on the "front lines" of living into "Franciscan Life in Evolution". Thirty-five (35) years ago she, together with artist Sister Nancy Earle, SMIC, settled in Orland, Maine eventually constructing an environmentally friendly home from which she continued to reach out into the neighborhood and world to bring, non-violently, the message of the interconnectedness of all creation and activities.
She was instrumental in a community-wide effort to help stop the construction of a coal fire plant in Bucksport arguing from the perspective of health issues. She has given workshops on "Ecology and Spirituality" in Taipei and Tainan, Taiwan and in Manila, Philippines. She has presented in Namibia, Africa on living sustainably and was instrumental in bringing 2 skilled Permaculturists with her for those presentations.
At the present moment she chairs the Bucksport Bay healthy communities' network and encourages the creation of planting local gardens for good, healthy eating. She has been teaching biomedical ethics and bio-ethics from the global perspective at the University of Maine. As a dedicated "green" physician she practices and encourages the use of alternative healing methods. All the above while keeping in front of her religious congregation that these issues are central to the well-being of God's universe and not simply "something to address if one has time".
Sharing Our Sacred Stories
The sisters of the USA Province celebrated the opening of our Centennial Celebrations, July 11- 14, 2008 at St. Bonaventure's University, Olean, NY. We chose this site as it is our first place of mission in the USA. Our foundress, Mother Immaculata Tombrock, spent the last 16 years of her life there. From this site, new missions have been taken on and Sisters have been missioned.
The San Damiano Cross was painted in the style of icons. Icons have also been called "meeting places of the divine and the human".
At our Centennial Celebration, we used this Franciscan cross and added our own pictures depicting our history.
In our own history and stories, God's presence and guidance shows through.
One of the songs we sang expressed this:
I am with you on the journey,
and I will never leave you
I am with you on the journey,
always with you
(Kathy Sherman, CSJ)
Pilgrimage to Our Sacred Sites
Our journey took us also on a Pilgrimage to our places of mission in the USA and Bolivia. Posters with pictures of these sites were carried. A booklet with reflections on each of these sites was used to accompany our prayer.
Snapshots
For our celebration, we invited our Sisters from the other provinces of the congregation.
Enjoy some of the snapshots: