Past News
SMIC partners with North Jersey Interfaith Cares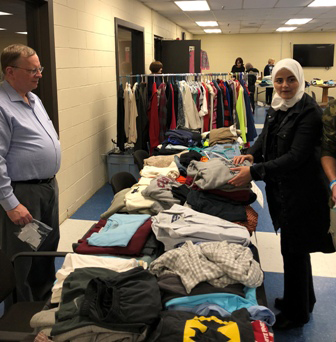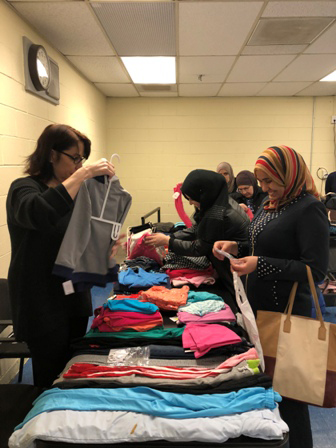 The Denville SMIC Community partners with North Jersey Interfaith Cares to respond to the needs of Syrian Refugees who are settling in as vetted refugees arriving from war torn zones. In the area there are a minimum of 30 families whose needs are being attended to through the coalition.
In February we helped sponsor a creative hands-on "flea market" learning experience with donations of clothing and other household articles that were gently used but no longer of need to our Community. The experience was a wild success as the families - especially the moms - used the fake money received to "purchase" what was either so appealing or needed for their household.
In March, we our contributed in sponsoring a Syrian Mother's Day (celebrated March 21st) event. Though rescheduled on another day because of a snow storm, the Mothers and their children attending English as a Second Language (ESL) classes were overwhelmed with the joy of receiving gift cards and flowers and a special homemade cards from their children. Our small efforts are so well received and bring hope and security to the families who have suffered greatly from the Syrian civil war.
---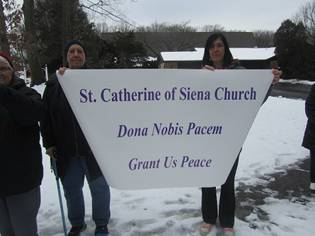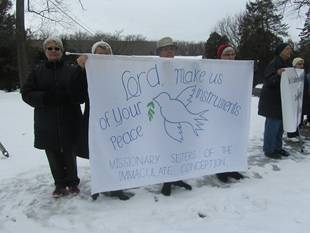 During Lent our Denville Community decided that one communal lenten practice would be to stand each Monday in silent prayer for peace. Before beginning our plan, the community sought collaboration with St. Catherine's Parish in Mountain Lakes, NJ., by speaking with Fr. Jared who has been inviting his parishioners to join us SMICs in "proclaiming" this meaningful Lenten message.
In order to bring visibility to the message, we gather at the corner of our street (Pocono Road) where a rather busy passing of cars occurs at the noon time prayer-stand, to hold a banner proclaiming: Lord, make us instruments of your Peace.
There have been a number of responses to the message including car horn beeps and hand signals of acceptance as well as looks or rather eyes turned aside in possible embarassment and/or to avoid confrontation, etc. To any and all of these passerbys, and to all peoples throughout the world, we are sending vibes of peace and a hope that all become persons committing to be counter witnesses to violence so prevalent in our world.
The half hour prayer-stand takes place throughout the ending winter snows and rains or in the welcoming warming spring that is upon us at this time of the year. Our Lenten fasting practice is one that is truly bringing us the blessing of the Lord.
---
Secular Franciscans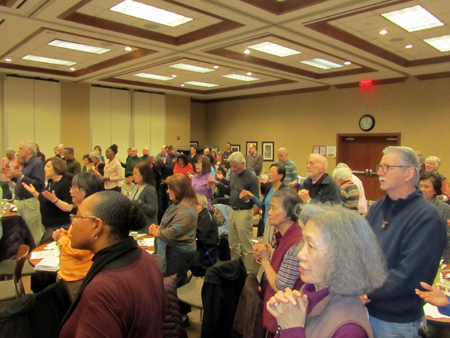 Sister Jane and Janice attended the annual regional (NY and NJ) Convivenza assembly of the Secular Franciscan Order (SFO) in late April with a purpose to better know the workings of the "Seculars". This meeting was especially helpful to Jane who volunteered to write an article reporting on the event to the Diocesan paper, the BEACON and also to write vocation promotion material for the SFO fraternity. Janice accompanied Jane already informed of the life of the Seculars as she has been accompanying the Holy Name fraternity in Little Falls, NJ as spiritual assistant for 10 years.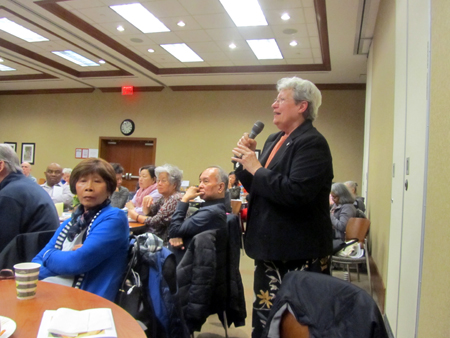 We were both in admiration of the spirit of life sharing and ministry responses lived out by the Seculars in their commitment to live the Gospel as followers of Francis. There are 732 professed members in this Region who are from various ethnic origins, ages and work experiences.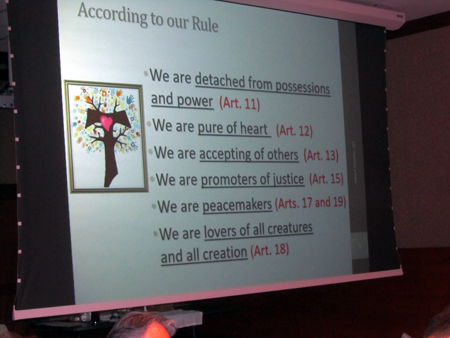 Read more on the Convivenza meeting
---