Ministries
Notes from a visit to SMIC mission in Angola, Africa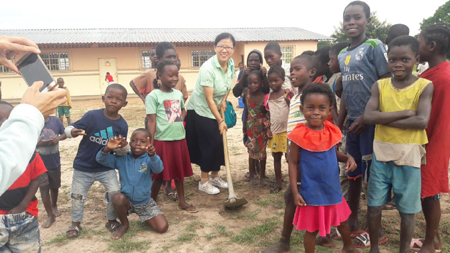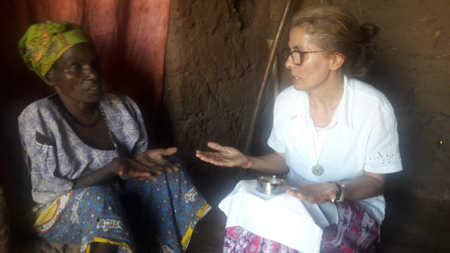 A powerful experience
A visitor to Africa does not return to her country the same. This is how I felt after some days of experience in the city of Malanje, next to Katepa, where our Sisters are in mission.
I had the grace to stay with our Sisters and to participate and share closely in their community life, domestic works, prayer life, socialization. Daily Eucharistic celebrations anchor in their life of faith, authenticity, courage and confidence.
Each day the women living at the periphery of the City with their children on their back arrive especially very early at the church, to pray the rosary, sing many songs and have moments of personal prayer.
The day we visited our Saint Anthony School we participated in the "campaign" a day in which classes are suspended and each child brings a hoe, duster, bucket, basin or broom to clean the external area of the school. We also met with the teachers to discuss "Emotional Intelligence" using a circle chat with an aim to better relate with self and with othe
Sunday prayer celebrations that are held in the villages are a powerful experience of fraternity. These are held in their very communities reflective of great poverty, illness and lack of the basic sanitation. My heart was touched to see children without a toy or necessary food, education, health and ability to just be a child because they often are taking care of other children.
Sister Lioneide Brito
---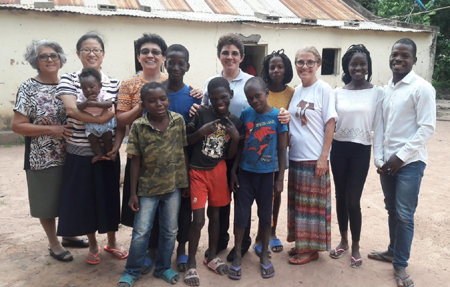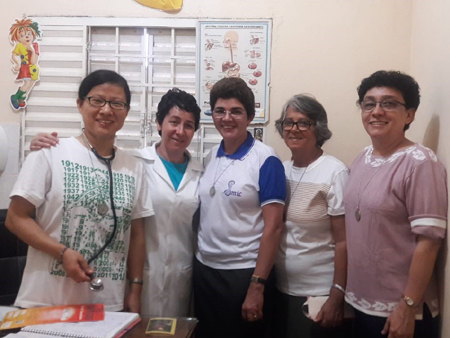 A link to the past
For our Congregation, our Angolan mission is a "kairos" moment (time of God's grace,) a SMIC dream that became true and is linking us to our 1910 foundation in Santarém, Brazil.
The poverty in Malange is something that breaks the heart. Kids, some of them with exposed wounds and wearing old, torn clothes moved me to compassion and urged me to become a better human being, the same feelings that undoubtedly moved our founders and the first group of Sisters arriving in Brazil.
The sisters who embrace the Angolan Mission make an option for a very simple lifestyle. There is no other way of living among the poor. This Gospel way also is the inspiration that moved our founders with priorities that are not about self, but directed to those whom we are sent to serve.
Readiness to serve demands a great deal of time and energy from those freely immersed in a reality like Malange. It's impossible to close one's arms or to sleep quietly when there is someone knocking at the door with great needs. I saw how our sisters quickly got up and responded to the needs of people sought help in various ways. Was it not this kind of situation that characterized the first years of the young community in Santarém?
Summing up, to serve in Angola as a missionary requires a clear option to open self to face extreme poverty, to embrace a simple lifestyle and to exercise readiness to serve those who cannot wait. It challenges us to give priority to others. Because of the urgency of the poor, who cry out for justice, dignity and life in abundance, we are challenged to learn how to understand and accept our cultural differences with the people as well as to live well with one another as SMIC Sisters from different nations.
Sister Silvia Corado do Amoral, SMIC
---
Since our arrival in Denville, many of our community members have been loyal volunteers, assisting student Sisters to negotiate the college educational system especially by strengthening them in English. Assumption College for Sisters is a two year college program which was begun especially for Sisters from other countries including several countries in Africa, Latin America and from Vietnam. The school is administered through the kindness of the Sisters of Christian Charity of Mendham,
Their website is: https://acs350.org/
NJ. SMICs who are tutor the Sisters to master English as a second language include Sisters. Sheila, Kate, Marcia, and Margaret. Sister Eleanor offers her skills as a spiritual director and Sister Janice as a health care provider.
The photos were taken when the Student Sisters were invited to join our community for an afternoon tea in April-May.