YOU ARE MISSION - Speak With Your Life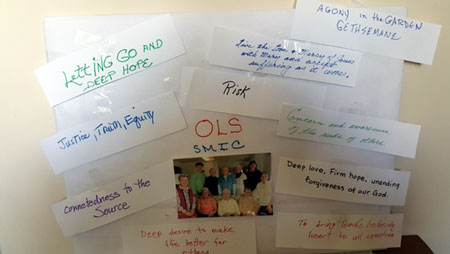 For our Day of Reflection in April the local community at Our Lady of Sorrows convent, Denville used as our theme "You are Mission - Speak with Your Life". We utilized readings from Pope Francis's Gaudete et Exsultate, paraphrasing Hans Ur von Balthazar, as well as from the April issue of Give Us This Day and the Inner Chapel, by Becky Eldredge:
"Each saint (small-s, you and me) is A MISSION, planned by the Father to reflect and embody, at a specific moment in history, a certain aspect of the Gospel. (Gaudete et Exsultate). Wow! Read that one a few times! Each of us is created in such a way that we are being invited to reflect a certain part of the Good News at a specific moment in history. (Give Us This Day)
Your unique call is the word that Jesus invites you to speak to the world by your life and calling. It plays out in every relationship you are in, every encounter you have, how you use your gifts, and what you do with your time. The same is true for every other person. This is how we are Jesus' co-laborers in the vineyard. This is how we are his co-creators in building the kingdom of God. (The Inner Chapel)"
We ended the day by sharing on the question: "At this moment in history, this day, what is the aspect of the Gospel that you are being invited to manifest?" Using our sharings we then created the collage accompanying this article.
In the liturgies of subsequent weeks we experienced the words of Jesus at the Ascension in which he sent out his disciples to be his message to the world. We lived Pentecost in which we are reminded that the Spirit has been sent to us with the strength and wisdom and courage to do just that. We heard on the 11th Sunday of Ordinary Time that we live as disciples of Jesus Christ with every moment of our daily lives and choices.
So for our prayer during our June House Meeting we chose to re-visit the readings and collage from April's Day of Reflection to see how we had incorporated the insights and the phrases we had written then into our living the weeks afterward.
We removed our own phrase and after some quiet time, shared on what still spoke to us, how it was lived, maybe unconsciously at the time, and how that Gospel Word could be manifested in the future. We then reattached our phrases to let the collage be re-formed in a call to continue to "Speak with our lives".